Competencia Internacional
ROGER KOZA (Buenos Aires, Argentina, 1968)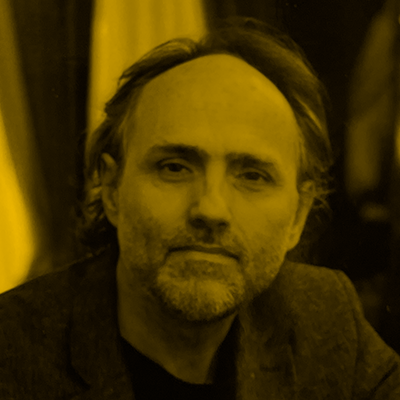 (ESP) Miembro de Fipresci, se desempeña como crítico de cine en el diario La Voz del Interior de la provincia de Córdoba y publica regularmente también en las revistas Ñ y Número Cero y la web Con los ojos abiertos, de la que es editor; actualmente conduce el programa de televisión El cinematógrafo (canal 10 de la Universidad Nacional de Córdoba) y es presentador en Filmoteca (Televisión Pública de Argentina). Desde 2006 es programador del Festival Internacional de Cine de Hamburgo, Alemania; fue programador, desde 2011 al 2018, de FICUNAM, Festival Internacional de Cine de la Universidad Autónoma de México. Desde el 2018, es programador de Viennale, Austria. También es el director artístico del Festival Internacional de Cine de Cosquín (Córdoba) y del legendario Doc Buenos Aires. Ha sido jurado en distintos festivales de cine internacional (Locarno, Rotterdam, FICValdivia, Ohlar de Cinema, entre otros). Ha escrito varios libros sobre cine.
(EN) Member of Fipresci, works as a film critic in the newspaper La Voz del Interior in the province of Córdoba and also publishes regularly in the magazines Ñ and Numero Cero and in the website Con los ojos abiertos, of which he is editor; He currently hosts the television program El cinematógrafo (channel 10 of the National University of Córdoba) and is a TV presenter on Filmoteca (Argentina's State Television). Since 2006 he has been a programmer for the Hamburg International Film Festival, Germany; He was a programmer, from 2011 to 2018, at FICUNAM, International Film Festival of the Autonomous University of Mexico. Since 2018, he has been a programmer in Viennale, Austria. He is also the artistic director of the Cosquín International Film Festival (Córdoba) and of the legendary Doc Buenos Aires. He has been a jury member at various international film festivals (Locarno, Rotterdam, FICValdivia, Ohlar de Cinema, among others). He has written several books about cinema.
MANUEL NIETO ZAS (Montevideo, 1972)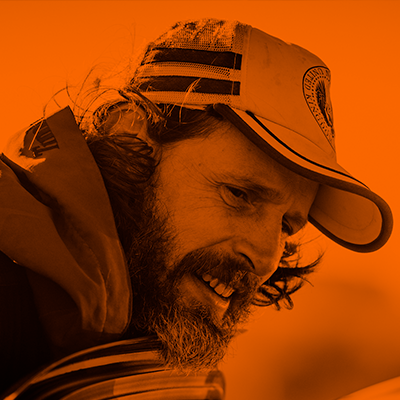 (ESP) Forma parte de la nueva (vieja) generación del cine uruguayo. En 2006, escribió y dirigió su opera prima, La perrera (The dog pound), Tiger Award en el Festival Internacional de Cine de Rotterdam. Esta obra fue seguida por El lugar del hijo (The militant, 2013), en la que además de escribir y dirigir también produjo. Fue presentada en el Festival de Toronto ese año y ganó, entre otros premios internacionales, el premio Fipresci en el Festival de la Habana. El empleado y el patrón (The employer and the employee, 2021), es su tercer largometraje. Ganó el premio Egeda en el Festival de San Sebastián 2020 y tuvo su prèmiere mundial en Cannes este año, en la Quinzaine des Réalisateurs.
(EN) He is part of the new (old) generation of Uruguayan cinema. In 2006, he wrote and directed his feature debut, The Dog Pound, which won the Tiger Award at the Rotterdam International Film Festival. This work was followed by El lugar del hijo (The militant, 2013), in which, in addition to writing and directing, he also produced. It was presented at the Toronto Festival that year and won, among other international awards, the Fipresci prize at the Havana Festival. The employer and the employee (The employer and the employee, 2021), is his third feature film. It won the Egeda award at the 2020 San Sebastian Festival and had its world premiere in Cannes this year, at the Quinzaine des Réalisateurs.
ALICIA MIGDAL (Montevideo, Uruguay, 1947)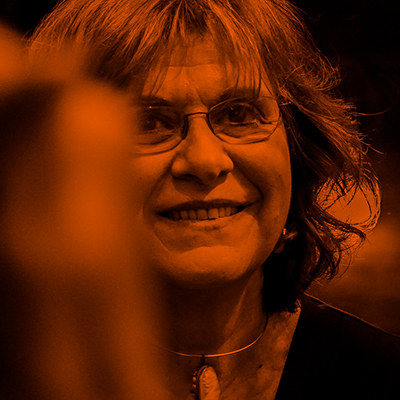 (ESP) Escritora y periodista cultural desde 1979. Hasta el cierre del diario El Día ha sido crítica de cine y literatura en el suplemento La Semana. También en la página de espectáculos de El País, Cuadernos de Marcha y Brecha. Participó en numerosos jurados y revistas culturales. Ha publicado cinco nouvelles, entre ellas: Muchachas de verano en días de marzo (Cal y Canto, 1999) y El mar desde la orilla (Criatura Editora, 2019)
(EN) Writer and cultural journalist since 1979. Right until the closure of the newspaper El Día, she was a film and literature critic in the supplement La Semana, as well as in the shows page of El País, Cuadernos de Marcha and Brecha. She has participated in many juries and cultural magazines. She has published five novels, including: Summer Girls in March Days (Cal y Canto, 1999) and The Sea from the Shore (Criatura Editora, 2019).
Competencia iberoamericana
EZEQUIEL ACUÑA (Buenos Aires, Argentina, 1976)
(ESP) Realizó los cortos Tokio (1998), Raro (1999) y Rocío (2000). En 2000 egresó con el título de realizador cinematográfico y en 2003 realizó Nadar solo, su primera película. Su segundo largometraje, también como productor, guionista y director, fue Como un avión estrellado (2005) que fue elegida como Mejor Película Argentina en el Bafici 2005, y ganó el Premio al Mejor Director en el Festival de Cine de Punta del Este en 2006. La película compitió en los festivales de Varsovia, Ghent, Montevideo, Toulouse, Cuenca y Gijón, entre otros. En su tercer largometraje, Excursiones (2009), a su labor de director, productor y guionista sumó la de montajista, tarea que volvería a repetir en sus dos películas siguientes. La vida de alguien (2014), su cuarto largometraje, obtuvo el Premio Cóndor (otorgado por la Asociación de Críticos Cinematográficos de la Argentina) a la Mejor Banda Sonora, realizada por la banda uruguaya "La Foca". En 2016 se radicó en Lima, Perú. En 2017 filmó allí su quinta película, La migración.
(EN) He made the shorts Tokio (1998), Raro (1999) and Rocío (2000). In the year 2000 he graduated as a film director and in 2003 he produced Nadar solo, his first film. His second feature film, also as producer, screenwriter and director, was Como un avión estrellado (2005), which was chosen as The Best Argentine Film at Bafici 2005, and won the Best Director Award at the Punta del Este Film Festival in 2006. The film competed at the Warsaw, Ghent, Montevideo, Toulouse, Cuenca and Gijón festivals, among others. In his third feature film, Excursiones (2009), as well as being director, producer and screenwriter, he was also editor, a task which he also did in his next two films. Someone's Life (2014), his fourth feature film, won the Cóndor Award (granted by the Argentine Film Critics Association) for Best Soundtrack, created by the Uruguayan band "La Foca". In 2016 he settled in Lima, Peru. In 2017, he filmed his fifth film there, La migración.
EUGENIA OLASCUAGA (Montevideo, Uruguay, 1988)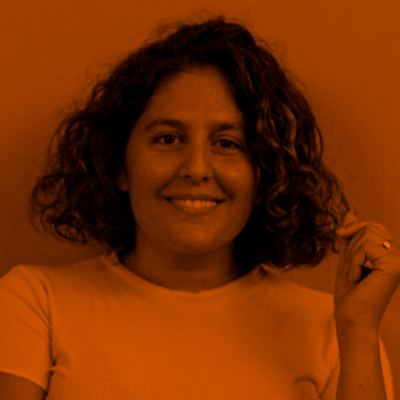 (ESP) Productora Audiovisual, cursó sus estudios en la ECU. Seleccionada en Talents BA 2018 y Sundance Producers Labs and Summit 2021. En 2011 funda Monarca Films junto a Valentina Baracco. Desde Monarca producen los documentales Delia ganador de la Biznaga de plata a mejor dirección en el Festival de Málaga y Ocho cuentos sobre mi hipoacusia; ganador del fondo de postproducción de Sundance, participó de varios festivales como Vancouver IFF y FIDBA. Luego produjo Ese Soplo que tuvo su preestreno nacional en La semana del documental del DocMontevideo, la serie Cambalache que tuvo su estreno en TV Ciudad y Canal 5, la coproducción suizo-uruguaya "Para no olvidar" que tendrá su première internacional en abril 2023. Desarrolla varios proyectos haciendo énfasis en la mirada de autor, proyectos personales, perspectiva de género y temática LGBT+.
(EN) Audiovisual Producer, she studied at the ECU. She was Selected in Talents BA 2018 and Sundance Producers Labs and Summit 2021. In 2011 she founded Monarca Films with Valentina Baracco. Through Monarca they produced Delia, a documentary winner of the Silver Biznaga for the Best Direction at the Malaga Festival, and Eight stories about my hearing loss; she was winner of the Sundance post-production fund and participated in various festivals such as Vancouver IFF and FIDBA. Then she produced Ese Soplo, which had its national premiere in DocMontevideo's documentary week, the Cambalache series, which premiered on TV Ciudad and Canal 5. Last but not least, the Swiss-Uruguayan co-production "Para no olvidar" which will have its international premiere in April 2023. She develops several projects emphasizing on the author's perspective, personal projects, gender perspective and LGBT+ themes.
ROMINA PAULA (Buenos Aires, Argentina, 1979)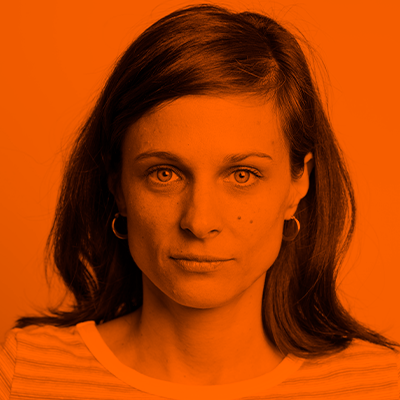 (ESP) Romina Paula es escritora, actriz, directora de teatro y cine. Publicó las novelas ¿Vos me querés a mí? (Entropía, 2005), Agosto (Entropía, 2009), Acá todavía (Entropía, 2016), un volumen con sus obras de teatro, Tres obras (Entropía, 2013) y un libro de relatos, Archivos de word (Mansalva, 2021). Estrenó varias obras como dramaturga y directora de teatro, Algo de ruido hace (2008), El tiempo todo entero (2009), Fauna (2013), Cimarrón (2017) son algunas de ellas. Escribió, dirigió y protagonizó la película De nuevo otra vez, premio de esta misma competencia en el año 2019. En 2020 estrenó Edición ilimitada, escrita y dirigida junto a Edgardo Cozarinsky, Santiago Loza y Virginia Cosin. Escribe la columna bimensual "Después, es ahora" en el DiarioAR desde marzo de 2021. Actualmente se encuentra ensayando la obra Sombras, por supuesto y desarrolla el guión de su nuevo largometraje Gente de noche.
(EN) Romina Paula is a writer, actress, theater and film director. She published the novels Do you love me? (Entropía, 2005), Agosto (Entropía, 2009), Acá todavía (Entropía, 2016), a volume with her theatre plays, Three works (Entropía, 2013) and a book of short stories, Word files (Mansalva, 2021) . She released several works as a playwrighter and theater director including Algo de ruido hace (2008), El tiempo todo entero (2009), Fauna (2013) and Cimarrón (2017), among others. She wrote, directed and starred in the film De nuevo otra vez, which won this same competition in 2019. In 2020 she released Unlimited Edition, co-written and co-directed by Edgardo Cozarinsky, Santiago Loza and Virginia Cosin. She has been writting the bimonthly column "Después, es ahora" in DiarioAR since March 2021. She is currently rehearsing the play Sombras, of course, and is developing the script for her new feature film Gente de noche.
Competencia nuevos realizadores
AGUSTINA DE VERA (San José de Mayo, Uruguay, 1994)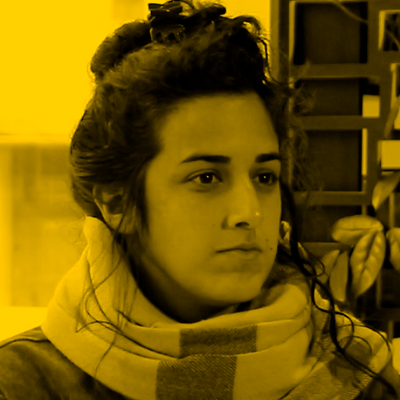 (ESP) Licenciada en Lenguajes y Medios Audiovisuales por la UdelaR, y Maestranda en Educación Audiovisual por FLACSO Uruguay. Desarrolla su actividad profesional en gestión; realización audiovisual independiente; docencia; investigación. Es responsable del Proyecto "MAIUS espacio cine" plataforma para la difusión, y descentralización del cine uruguayo. Su línea de investigación se encuentra atravesada por las poéticas experimentales cinemáticas que descentran las relaciones y formas de producción audiovisual canónicas.
(EN) She has a Degree in Languages and Audiovisual Media from UdelaR, and a Master's Degree in Audiovisual Education from FLACSO Uruguay. She develops her professional activity in the areas of management, independent audiovisual production, teaching and investigation.
She created the "MAIUS espacio cine" project, a platform for the dissemination and decentralization of Uruguayan cinema. Her line of research is influenced by the experimental poetics of cinema which decenters relationships and the canonical audiovisual ways of production.
VICTORIA PENA (Montevideo, Uruguay, 1987)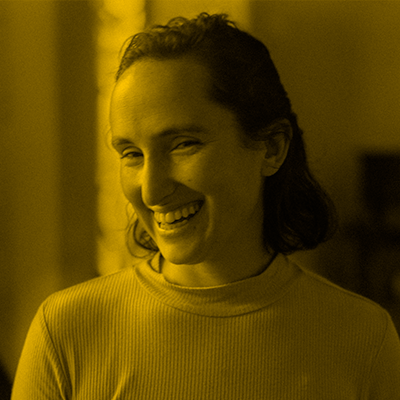 (ESP) Victoria "Pitoka" Pena es licenciada en Ciencias de la Comunicación por la Udelar, especializada en Dirección de Fotografía por la ESCAC, y docente de la Facultad de Información y Comunicación y del CETP (ex UTU). Dirigió y fotografió cortometrajes premiados a nivel nacional e internacional, es directora de fotografía de la serie Cambalache de Rosalía Alonso y co-directora de fotografía del largometraje Carmen Vidal, mujer detective de Eva Dans. En 2022 estrena su ópera prima Delia, obra que le valió el premio a mejor dirección en el Festival de Málaga.
(EN) Victoria "Pitoka" Pena has a degree in Communication Sciences from Udelar, specialized in Photography Direction from ESCAC, and is also a teacher at the Faculty of Information and Communication and CETP (formerly UTU). She directed and pictured short films that have won national and international awards, she is the photography director of the series Cambalache by Rosalía Alonso and co-director of photography for the feature film Carmen Vidal, woman detective by Eva Dans. In 2022 she released her debut feature Delia, a play that won the award for best direction at the Malaga Festival.
DAVID FIDALGO OMIL (Lugo, España 1989)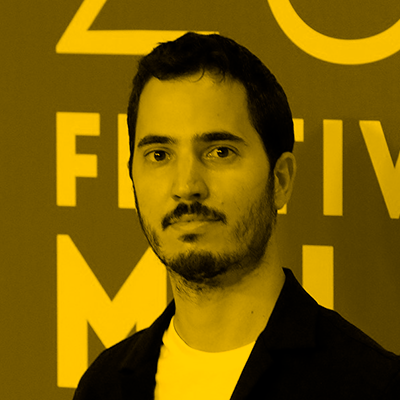 (ESP) Es graduado en Bellas Artes, lo que le lleva a compaginar sus dos pasiones, el cine y el arte, convirtiéndose en un destacado realizador de animación a nivel nacional, con un carácter y estilo muy personal. Con sus cortometrajes de animación, Cartas a Superman (2016), Homomaquia (2019) y SANDWICH CAT (2022), lleva años participando en diferentes festivales de cine por todo el mundo como como SXSW, BAFICI, STUTTGART, ANIMAC, etc. acumulando varios reconocimientos como la Nominación a los Premios Goya 2020, el Premio del Público del Festival de Málaga, el Mestre Mateo de la Academia Galega do Audiovisual, etc.
(EN) He has a degree in Arts, which allows him to combine his two passions, cinema and art, and has become a leading national animation director, with a very personal character and style. His animated short films Letters to Superman (2016), Homomaquia (2019) and SANDWICH CAT (2022), have been nominated for years in different film festivals around the world such as SXSW, BAFICI, STUTTGART, ANIMAC, among others. Awarded various recognitions such as the 2020 Goya Awards Nomination, the Malaga Festival Audience Award, the Mestre Mateo of the Galician Audiovisual Academy, etc.
CINE DE DERECHOS HUMANOS
LAURA AMAYA (Bogotá, Colombia, 1989)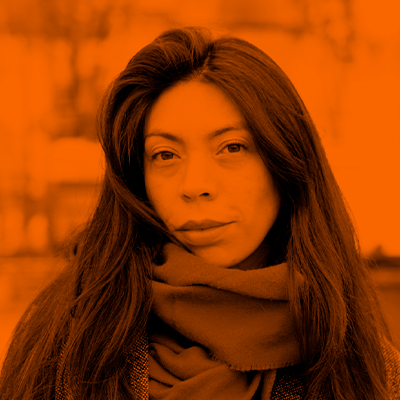 (ESP) Laura es artista audiovisual y su búsqueda estética está guiada por la práctica documental en la construcción de imaginarios sociales y memorias colectivas en Latinoamérica. Ha residido en Bogotá, Valparaíso, Buenos Aires y desde hace 7 años vive en Montevideo investigando sobre pasado reciente y difundiendo la producción cinematográfica del periodo. En este tiempo ha integrado equipos de producción y programación de muestras y festivales como el Festival Internacional de Cine y DDHH "Tenemos que ver"; fue co curadora de la exposición "Juegos de Memoria", del Festival de Fotografía de Montevideo MUFF y su última obra audiovisual "Libertad" relata los 40 años de trabajo contra la violencia institucional del Servicio de Paz y Justicia en Uruguay.
(EN) Laura is an audiovisual artist and her aesthetic search is guided by documentary practice in the construction of social imaginaries and collective memories in Latin America. She has lived in Bogotá, Valparaíso, Buenos Aires and for 7 years she has been living in Montevideo researching the recent past and disseminating the cinematographic production of the period. During this time, she has been part of production and programming teams for exhibitions and festivals such as the International Film and Human Rights Festival "Tenemos que ver"; she was co-guardian of the exhibition "Memory Games" of the Montevideo MUFF Photography Festival and her latest audiovisual work, "Libertad", recounts the 40 years of work of the Peace and Justice Service in Uruguay against institutional violence.
MARÍA JOSÉ OLIVERA (Montevideo, Uruguay, 1981)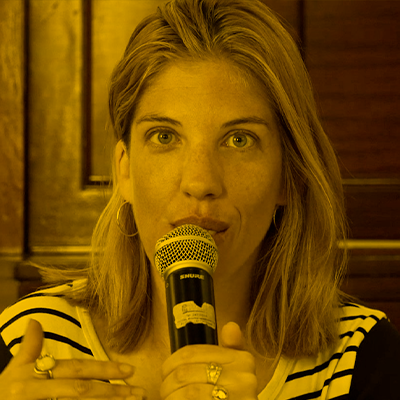 (ESP) Docente, investigadora y crítica cultural. Doctoranda en Semiótica en el Centro de Estudios Avanzados de la Universidad Nacional de Córdoba, Argentina. Diplomada en Violencia de Género y Políticas de Igualdad. Especializada en estudios audiovisuales. Profesora de literatura. Es docente en educación media y en numerosas instituciones vinculadas a las humanidades, las ciencias sociales y la formación profesional.Como investigadora, sus principales ejes de trabajo atraviesan el vínculo entre literatura, género, representación, tecnologías, análisis de discurso y mediatización. Se ha desempeñado como guionista y codirectora de proyectos audiovisuales comunitarios. Fue integrante del comité editorial de la revista especializada en estudios de cine 33Cines. En el campo de la crítica y la divulgación en Uruguay, escribió para diversos medios. En la actualidad es colaboradora asidua en el semanario Brecha.
(EN) Teacher, researcher and cultural critic. PhD candidate in Semiotics at the Center for Advanced Studies of the National University of Córdoba, Argentina. Graduated in Gender Violence and Equality Policies. Specialized in audiovisual studies. Literature teacher. She teaches in secondary education and in many institutions linked to humanities, social sciences and professional training. As a researcher, her main working themes cross the link between literature, gender, representation, technologies, discourse analysis and media coverage. She has worked as a scriptwriter and co-director of community audiovisual projects. She was a member of the editorial committee of 33Cines, a magazine specialized in film studies. In the field of criticism and dissemination in Uruguay, she wrote for various media. She is currently a regular contributor to the weekly Brecha.
ÁNGELA LÓPEZ RUIZ (Montevideo, 1963)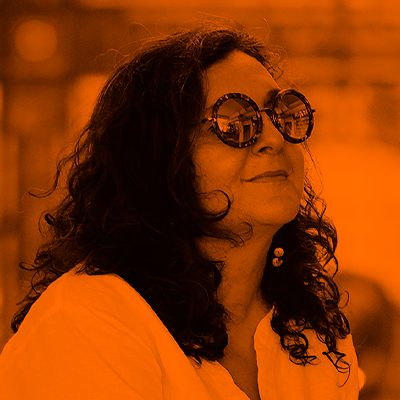 (ESP) Magister en Estudios Latinoamericanos y Licenciada en Artes Visuales (UdelaR). Participó en ISMO ISMO ISMO Cine Experimental en América Latina de Los Angeles Film Forum para el Pacific Standard Time LA/LA de la Fundación Getty. Es parte de la Fundación de Arte Contemporáneo donde colabora con las actividades del Laboratorio-FAC. Es docente invitada a la Maestría de Cine Alternativo de EICTV-Cuba, PHD in practice de la Academia de Arte de Viena y del programa Mentorías del Ministerio de Educación y Cultura del Uruguay. Recibió la beca curatorial en el 66ª Flaherty Seminar (U.S), CENDEAC (España) y Utopiana (Suiza). Ha sido ganadora de los Fondos Concursables para la Cultura (2012 y 2015) y de los FEFCA (2017). Como curadora destaca: Mujeres experimentalistas en América Latina -Hammer Museum, Berkeley Art Museum and Pacific Film Archive y Cine Tonalá de Tijuana (2017),Pioneras del Arte de Acción/ Centro Cultural de España (Montevideo,2016) Southern Latitude/ Filmmakers Coop (2016), entre otros. Junto a Juliana Rosales crearon los Focos de Acción presentado en 30ª Bienal de San Pablo (2012), 9ª Bienal de Salto (2011) y Encuentro Regional de Arte (2007).
(EN) Magister in Latin American Studies and Bachelor in Visual Arts (UdelaR). She participated in the Los Angeles Film Forum's ISMO ISMO ISMO Experimental Cinema in Latin America for the Getty Foundation's Pacific Standard Time LA/LA. She is part of the Contemporary Art Foundation where she collaborates with the activities of Laboratorio-FAC. She is a guest professor at the Alternative Cinema Master's Degree at EICTV-Cuba, she has a PHD in practice from the Art Academy in Vienna and from the Mentoring program of the Ministry of Education and Culture of Uruguay. She received the curatorial fellowship at the 66th Flaherty Seminar (U.S), at CENDEAC (Spain) and at Utopiana (Switzerland). She has won the Competitive Funds for Culture (2012 and 2015) and the FEFCA (2017). As guardian, her following works stand out: Experimental Women in Latin America -Hammer Museum, Berkeley Art Museum, Pacific Film Archive and Cine Tonalá de Tijuana (2017), Pioneers of Action Art / Cultural Center of Spain (Montevideo, 2016) Southern Latitude / Filmmakers Coop ( 2016), among others. Together with Juliana Rosales, they created Focos de Acción, premiered at the 30th San Pablo Biennial (2012), the 9th Salto Biennial (2011) and the Regional Art Meeting (2007).
INFANTIL DE 8 A 11
AGUSTINA RUSSOMANO (Montevideo, Uruguay, 2012)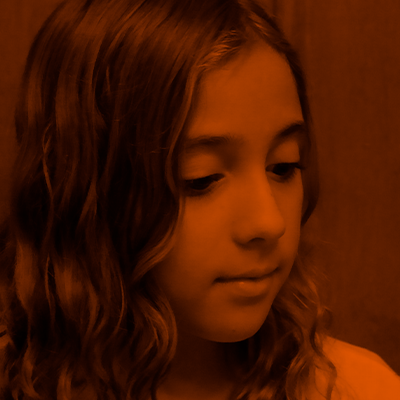 Me llamo Agustina Russomano. Tengo 10 años. Tengo un hermano mayor que se llama Mateo. Mis hobbies son jugar con las cartas, sobre todo al "desconfio", jugar con mis dos mascotas, y el handball, que también me gusta mucho. Descubri el cine gracias a mi tía, que desde chiquita me ponía películas en blanco y negro sin susbititulos. ¡Me encantaban! Soy de estatura baja, medio rubia y bastante miope pero soy muy alegre, sé disfrutar de las cosas, aprovecho todo al máximo y amo a los animales. Me gusta estudiar historia porque es interesante. El resto no me divierte. Estudio Alemán y sé un poco de inglés, lo básico. Me gusta ver todo tipo de cine, a veces en Cinemateca. Me gusta mucho ir al cine porque es como una terapia que te hace olvidar las cosas malas, y si la película es muy buena te hace pensar y a veces hasta emocionar, y se me hace un nudo en la garganta, sobre todo cuando se muere un perro.
My name is Agustina Russomano. I am 10 years old. I have an older brother named Mateo. My hobbies are playing cards, especially "distrust", playing with my two pets and handball, which I also like a lot. I discovered cinema thanks to my aunt, who introduced me from a very early age to black and white movies without subtitles. I loved it! I am short, half blonde and quite nearsighted but I am very cheerful, I know how to enjoy myself, I make the most of everything and I love animals. I like studying history because it's interesting. The other subjects do not amuse me. I study German and I know a little English, the basics. I like to see all kinds of movies, sometimes at the Cinemateca. I really like going to the movies because it's like a therapy that makes you forget the bad things, and if the movie is very good it makes you think and sometimes I even get emotional, and I get a lump in my throat, especially when a dog dies.
AINARA DOMÍNGUEZ (Montevideo, Uruguay, 2012)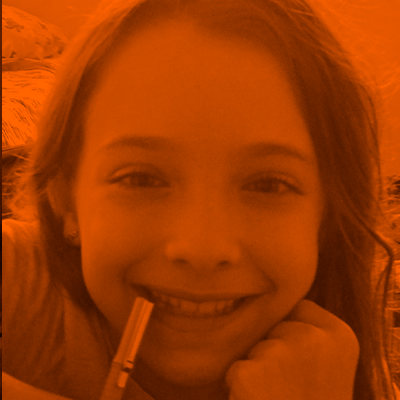 (ESP) Mi nombre es Ainara, tengo once años, y conocí las películas (más bien, me interesé en ellas, porque las conocía desde siempre) en la pandemia. Tenía mucho tiempo libre, ya que eran solamente 45 minutos de clase. Cada viernes, con mi familia nos tirábamos en el sillón y mirábamos una peli (principalmente las de Studio Ghibli) y luego de verlas sentía como que tenía alas. En la pandemia también empecé a dibujar con unas referencias de internet, y fui mejorando. También me gusta hacer animaciones. La primera la hice el año pasado, que era de (con suerte) medio minuto, y estuve meses haciéndola, incluyendo componer la música (me encanta tocar el piano). Me encanta leer y escribir historias, componer música y tocarla, ver películas y animar.
(EN) My name is Ainara, I am eleven years old and I got to know the movies (rather, I became interested in them, because I have always known them) during the pandemic. I had a lot of free time, since I only had 45 minutes of class. Every Friday, with my family, we would sit on the couch and watch a movie (mainly the ones from Studio Ghibli) and after watching it I felt as if I had wings. During the pandemic I also started drawing based on some references from the internet, and gradually I improved. I also like making animations. I did the first one last year, which was half a minute long (at the most), and I spent months doing it, including composing the music (I love playing the piano). I love reading and writing stories, composing music and playing it, watching movies and cheering.
ATARI KURI (Montevideo, Uruguay, 2012)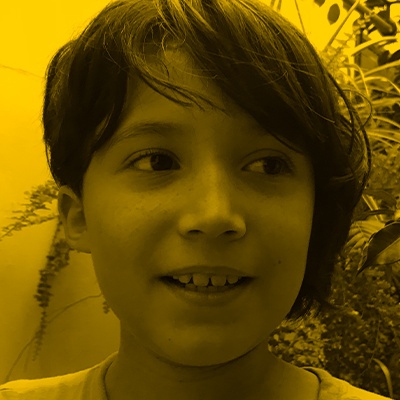 (ESP) Mi nombre es Atari, vivo en Uruguay, tengo 10 años. Me considero bueno en matemáticas, es mi materia favorita. También me gusta historia y geografía. Programar es mi pasión, comparto mis juegos a la gente, ¡les gusta! Cuando era pequeño empecé viendo dibujos animados franceses y con el tiempo conocí otras cosas como el cine. En general me gustan las películas de misterio pero me gustan otros tipos también. Lo que más me gusta del cine es ver películas con mis amigos. Y también me gusta hacer flipbooks.
(EN) My name is Atari, I live in Uruguay and I'm 10 years old. I consider myself to be good at math, it's my favorite subject. I also like history and geography. Programming is my passion, I share my games with people, they like it! When I was little I started watching French cartoons and over time I got to know other things like cinema. Generally I like mystery movies but I also like other kinds too. What I like the most about cinema is watching movies with my friends. And I also like to making flipbooks.
ISABEL ORTEGA (Montevideo, Uruguay, 2012)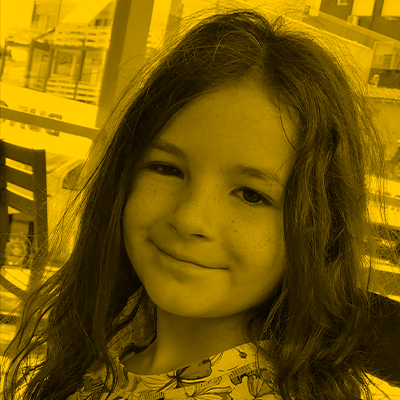 (ESP) Me llamo Isabel Ortega, tengo diez años, estoy en quinto de escuela y estudio inglés. Me gusta ir a la casa de mis amigos, me gustan los juegos y las historias de terror. Mi hobbie es jugar Roblox y Minecraft. Me gusta leer las Aventuras de Asterix y Obelix y El Sapo Ruperto. Tengo una mascota, una perrita traviesa bandida y pícara, que se llama Nina, le decimos Chibui porque tiene ojos saltones como un Chihuahua. Me gusta ver series y películas, he ido mucho a Cinemateca con mi madre. Mi serie favorita es Wednesday. Entre mis películas preferidas está El gato del Rabino, también me gustan algunas de Estudio Ghibli. No me gustan las películas de Disney donde todo siempre termina igual. Empieza, hay un conflicto, la princesa y el príncipe se casan, todo termina bien. Me gusta ver de qué se tratan las películas, si tienen la temática que me gusta, cómo cuando tratan sobre animales, cómo las de Estudio Ghibli en donde hay muchas historias sobre gatos. Me gustan mucho los animales.
(EN) My name is Isabel Ortega, I am ten years old, I am in the fifth grade of school and I am studying English. I like going to my friends' house, I like games and horror stories. My hobby is playing Roblox and Minecraft. I like reading the Adventures of Asterix and Obelix and El Sapo Ruperto. I have a pet, a mischievous and naughty dog named Nina, we call her Chibui because she has bulging eyes like a Chihuahua. I like to watch series and movies, I have gone to the Cinemateca a lot with my mother. My favorite series is Wednesday. One of my favorite movies is The Rabbi's Cat, I also like some of Studio Ghibli. I don't like Disney movies because they always end in the same way. It starts, then there is a conflict, the princess and the prince get married and everything ends well. I like analyzing what movies are about, wether they have the theme that I like, such as those that deal with animals, like the ones from Studio Ghibli where there are many stories about cats. I really like animals.
INFANTIL DE 12 A 15
BRUNO COUTURIER (Ciudad de México, México, 2009)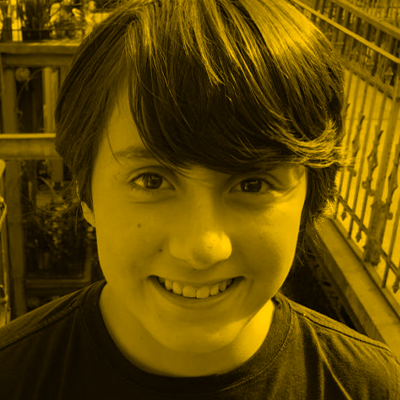 (ESP) Hola, soy Bruno, un chico de 13 años que desde muy pequeño se ha sentido apasionado por el cine. Nací en México, donde tuve la oportunidad de ver una gran variedad de películas de todo el mundo. A los 8 años, mi familia se mudó a Uruguay, lo que representó un gran cambio para mí. Sin embargo, mi amor por el cine nunca se apagó y encontré en las películas locales una forma de conocer más sobre la cultura uruguaya. El año pasado, en mi liceo, participé en un proyecto de cine y presenté un cortometraje que ganó dos premios. Este logro me inspiró aún más a seguir adelante con mi sueño de convertirme en cineasta. Además, he tenido la oportunidad de actuar en dos cortometrajes, uno en la UNAM, en México, y el otro en la ECU. Estas experiencias me han permitido conocer más sobre la realización de cine desde diferentes perspectivas. Sigo dedicando mi tiempo a mi pasión por el cine y experimentando con la realización de cortometrajes y guiones propios. Espero algún día poder compartir mis propias historias con el mundo a través de la pantalla grande. Con el apoyo de mi familia y amigos, estoy seguro de que tengo un futuro prometedor en la industria cinematográfica.
(EN) Hi, I'm Bruno, a 13-year-old boy who has been passionate about cinema since the very beginning. I was born in Mexico, where I had the opportunity to see a wide variety of movies from all over the world. When I was 8 years old, my family moved to Uruguay, which involved a big change for me. However, my love for cinema never faded and I found in local films a way to learn more about Uruguayan culture. Last year, in high school, I participated in a film project and presented a short film that won two awards. This achievement inspired me even more to follow through on my dream of becoming a filmmaker. In addition, I have had the opportunity to act in two short films, one at UNAM, in Mexico, and the other at ECU. These experiences have allowed me to learn more about filmmaking from different perspectives. I still dedicate my time to my passion for cinema and practice making short films and my own scripts. I hope that one day I will be able to share my own stories with the world through the big screen. With the support of my family and friends, I am confident that I have a promising future in the film industry.
MANUEL ARAMENDI (Montevideo, Uruguay, 2008)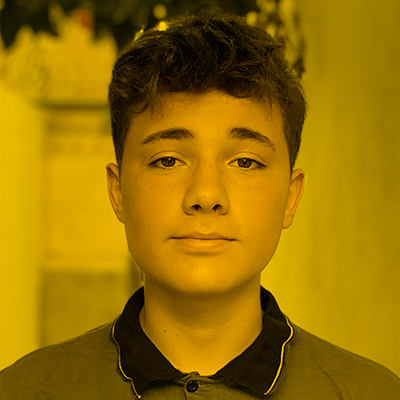 (ESP) Soy Manuel, tengo 15 años, vivo en Montevideo, aunque hasta hace unos años viví en La Paloma, tengo 2 hermanos y una perrita, India, tiene 3 meses. De chico fui un niño muy activo, corría por todos lados y me pasaba jugando afuera, al crecer empecé a descubrir un poco más de mí mismo y encontrar cuáles eran las cosas por las cuales estaba más interesado. Actualmente estoy en 1er año de bachillerato y estoy pasando por un momento muy difícil para la mayoría de la gente, descubrir quién quiero ser en el futuro.
(EN) I am Manuel, I am 15 years old and I live in Montevideo, although until a few years ago I lived in La Paloma. I have 2 brothers and a dog, called India, which is 3 months old. As a child I was very active, I ran all over the place and spent time playing outside. As I grew up I began to discover a little more about myself and identified the things which I was most interested in. I am currently in my 1st year of high school and I am going through a moment which is very difficult for most people, that is figuring out who I want to be in the future.
JUAN PEDRO COUSILLAS (Montevideo, Uruguay, 2009)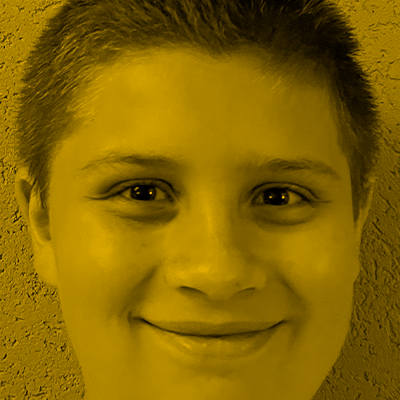 (ESP) Me llamo Juan Pedro, tengo 13 años. Soy hijo único y tengo un perro pug que tiene 3 años y se llama Mario. Estoy en 7mo y me encantan materias como biología y matemáticas. Amo ver películas y series, mis hobbies son escuchar música, jugar videojuegos, cantar y dibujar. Descubrí el cine desde muy chico, casi no me acuerdo de nada sin embargo me gusta ir a ver todo tipo de películas, sin importar su género; las que más me gustan son de tipo thriller, comedia y dramáticas.
(EN) My name is Juan Pedro, I am 13 years old. I am an only child and I have a 3 year old pug dog called Mario. I'm in 7th grade and I love subjects like biology and maths. I love watching movies and series. My hobbies are listening to music, playing video games, singing and drawing. I discovered cinema from a very young age, I hardly remember anything from that time, however I like to see all kinds of movies, regardless of their genre; the ones I like the most are thriller, comedy and drama.
SARA GUTIÉRREZ (Caracas, Venezuela, 2009)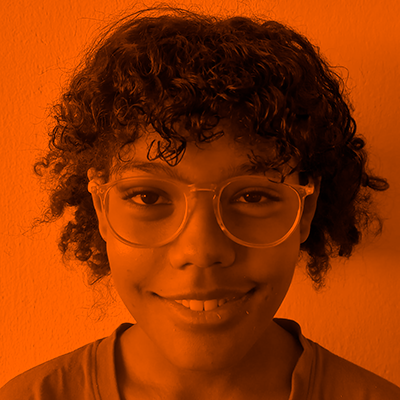 Soy una persona a la que le cuesta adaptarse a nuevos entornos pero me llevo bien con la gente con la que comparto ideas similares. Disfruto de leer, escribir, dibujar, cantar y bailar; no mucho más que eso. Lo que más me gusta leer es thriller, fantasía y ciencia ficción. Al escuchar música o cantarla me gusta especialmente el indie rock, J-pop, el heavy metal, death metal, doom metal, metal electrónico, el new Age, rock alt, punk, pop punk, scene, emo, progressive rock, rock gótico, post hardcore, glam rock y emo-punk. Bailo pop aunque también me llama la atención el Street dance. Escribo fantasía y thriller romántico. Conocí el cine gracias a mi padre que de chiquita me ponía mucho las películas del Studio Ghibli. No tengo ningún género predilecto para ir a ver al cine pero si tuviera que escoger diría que es el terror o películas con "angsty teens" como protagonistas.
(EN) I am a person who finds it difficult to adapt to new environments but I get along well with people with whom I share similar ideas. I enjoy reading, writing, drawing, singing and dancing; Not much more. What I most like to read is thriller, fantasy and science fiction. When it comes to listening to music or singing I especially like indie rock, J-pop, heavy metal, death metal, doom metal, electronic metal, new age, alt rock, punk, pop punk, scene, emo, progressive rock, gothic rock , post hardcore, glam rock and emo-punk. I dance to pop although Street dance also catches my attention. I write fantasy and romantic thrillers. I got to know the films thanks to my father, who used to make me watch Studio Ghibli movies a lot when I was little. I don't have a favorite genre when it comes to going to the movies but if I had to choose I would say it's horror or movies with "angsty teens" as main characters.
EVANGELINA DE NITTIS (Montevideo, Uruguay, 2009)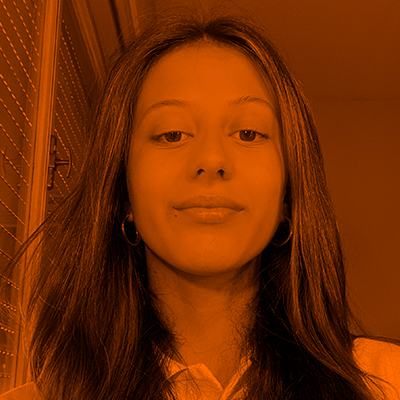 Mi nombre es Evangelina De Nittis Lopez, tengo 14 años, nací y vivo en Montevideo, con mis padres y mi hermana Cayetana de 9 años. Desde chiquita me gusta todo lo relacionado al cine, la actuación, el baile y la música. Estudié ballet, baile moderno, comedia musical y teatro. En mi tiempo libre me encanta ir al cine o ver películas en casa, también ir al teatro o salir con amigas. Me gusta viajar y conocer lugares nuevos.
(EN) My name is Evangelina De Nittis Lopez, I am 14 years old, I was born and live in Montevideo with my parents and my 9 year old sister Cayetana. Since I was little I like everything related to cinema, acting, dancing and music. I have studied ballet, modern dance, musical comedy, and theater. In my free time I love going to the cinema or watching movies at home, also going to the theater or going out with friends. I like traveling and seeing new places.
Competencia Cortometrajes
GONZALO E. VELOSO (A Coruña, España, 1985)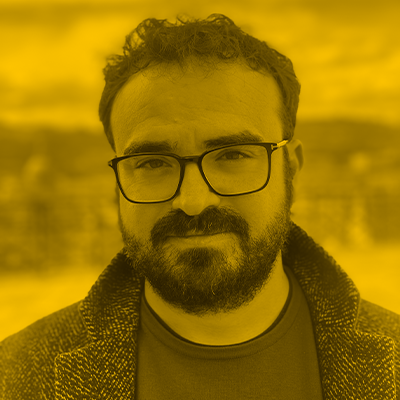 (ESP) Realizador. Es fundador y director de INTERSECCIÓN - Festival de Arte Audiovisual Contemporáneo de A Coruña, así como fundador de TESTAFERRO, con la que ha producido películas que han participado en festivales como SXSW, BAFICI, Stuttgart, Doclisboa, FICUNAM, Curtas Vila do Conde L'Alternativa o ZINEBI.
(EN) Producer. He is founder and director of INTERSECCIÓN - A Coruña's Contemporary Audiovisual Art Festival, as well as founder of TESTAFERRO, through which he has produced films that have participated in festivals such as SXSW, BAFICI, Stuttgart, Doclisboa, FICUNAM, Curtas Vila do Conde L' Alternative or ZINEBI.
MILAGROS BLANQUÉ (Montevideo, Uruguay, 1994)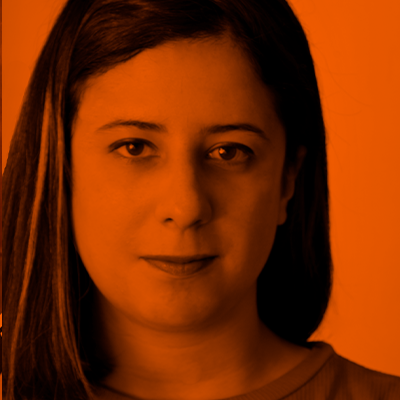 (ESP) Licenciada en Lenguajes y Medios Audiovisuales (UDELAR) y Técnica en Audiovisuales (UTU). Se desempeña como editora en una agencia de publicidad. Ha trabajado como docente en Secundaria y en la IAM. Dentro de su experiencia se destacan algunos de sus trabajos como el de la campaña en apoyo a la Ley Integral Trans, entre otros trabajos relacionados a los Derechos Humanos. Hizo cortos que han circulado por varios festivales y realiza videoclips con su productora Medusa Cine.
(EN) She has a degree in Languages and Audiovisual Media (UDELAR) and is also an Audiovisual Technician (UTU). She works as an editor in an advertising agency. She has worked as a teacher in Secondary and in the IAM. Within her experience some projects stand out, such as the campaign in support of the Comprehensive Trans Law, as well as other works related to Human Rights. She has made shorts that have participated in various festivals and makes video clips with her production company Medusa Cine.
SOL KUTNER (Buenos Aires, Argentina, 1991)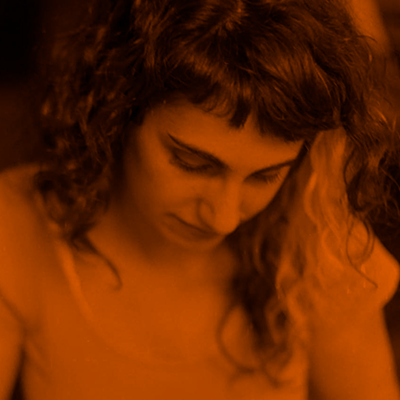 (ESP) es fotógrafa y artista visual rioplatense. Su obra explora las cartografías afectivas que emergen en el tránsito entre la materialidad y la virtualidad, tomando el paisaje como principal referente. Asimismo, se encuentra desarrollando investigaciones que cruzan distintos lenguajes junto otros artistas, vinculadas al audiovisual, el paisaje sonoro y los afectos. Ha recibido reconocimientos en Argentina, Uruguay, España e Italia. Actualmente vive en Montevideo, alternando su tiempo entre la gestión cultural, la docencia, la producción de sus proyectos autorales y sus primeras prácticas curatoriales. Es co-coordinadora de Creadores de Imágenes en Uruguay y miembro de Proyecto La Faena (Argentina).
(EN) She is a photographer and visual artist from Río de la Plata. Her work explores the affective cartographies that emerge in the transition between materiality and virtuality, using landscape as the main reference. Likewise, she is developing research that crosses different languages together with other artists, linked to the audiovisual genre, soundscape and affections. She has received awards in Argentina, Uruguay, Spain and Italy. She currently lives in Montevideo, toggling between cultural management, teaching, the production of her own projects and her first curatorial practices. She is co-coordinator of Image Creators in Uruguay and member of La Faena Project (Argentina).